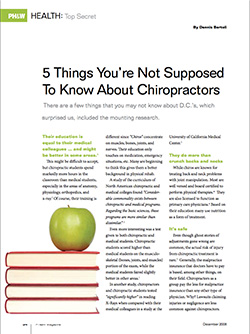 I came across a good article today that I wanted to share.  It is from a publication called PH&W Magazine. It's an excellent article detailing five secrets that the public is not supposed to or simply doesn't know about chiropractic.
You can read the short article here, 5 Things You're Not Supposed To Know About Chiropractors. The main points are summarized below:
1.  Chiropractors education is equal to their medical colleagues … and might be better in some areas.  Several studies have shown our knowledge of musculoskeletal disorders are superior to that of many medical couterparts.
2.  Chiropractors do much more than "crunch" backs and necks.  We are licensed and take tests in physical therapy modalities and we are, as the article states, licensed as "primary care providers" .  This means that you do not need a referral to see us.
3.  Chiropractic is safe.  Despite some of the dwindling rumors, chiropractic adjustments have been proven safe in several large studies. This is why our malpractice insurance is often less than our car insurance.
4.  Chiropractors took the AMA (American Medical Association) to court … and won … twice.  For a long time the AMA disseminated false information about chiropractic and chiropractors to their members and the public for the purpose of protecting their market share.
5.  MD's and DC's are working together.  While I was in chiropractic school I was fortunate to have friends going through medical school who all agreed that we all have our place in todays healthcare .


Dr. Jason Schluter is a Chiropractor in Tulsa, OK at Schluter Chiropractic.
Schluter Chiropractic is conveniently located off Memorial Drive in Tulsa, Oklahoma and provides quality chiropractic care to Tulsa and the surrounding areas.
To schedule an appointment, call (918) 664-3571 or visit www.DrSchluter.com.
Social Share