tag :
back pain
,
chiropractic
,
exercise
,
low back
,
muscle
,
Pain
,
posture
,
spine
,
stress
,
Tulsa Chiropractor
,
vertebra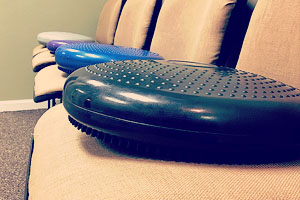 If you've ever been in our office you'll notice these weird looking cushions in some of our chairs. They go by different names but we tend to call them exercise discs, and they have several benefits.
It forces good posture
One of the first things you will notice when you sit on an exercise disc is that it almost forces you to sit with better posture. It makes it hard and uncomfortable to slouch when using one. This is important because when you sit you are creating an unfriendly stress on your spine. In fact, as far as loads on the spine go, sitting is the worst. This is intensified when you slouch. This is why you may have noticed that after sitting for a long time that it hurts when you go to stand up and straighten out.
It creates active motion in your spine
One of the bigger benefits exercise discs have is that it keeps your spine active. One of the problems with sitting is that many times, especially if we are extremely focused on something, we become stagnant and don't move around much. This lack of activity in the spine while in a position of unfriendly stress can become problematic and amplify any problem you may already be facing in your spine. We also know that activity in the spine helps stimulate and nourish the brain.
It encourages and develops core strength and stability
Due to better posture and increased motion in the spine, an exercise disc will also help strengthen your core. Strengthening your core means the muscles in your pelvis, lower back, hips and abdomen begin to work in harmony. This leads to better balance and stability and increases your body's ability to stabilize and protect your low back from unfriendly stress. After a short period of time of using an exercise disc, you will find your core muscles are considerably stronger.
Exercise discs have also been shown to improve energy levels, reduce physical instability, fatigue and pain, aid in weight loss, improve concentration for adults and children and improve the ability to manage stress.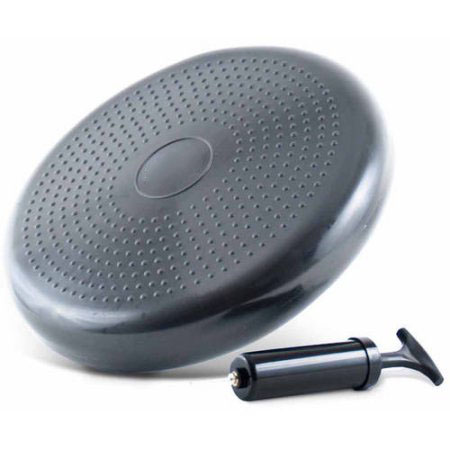 We typically recommend them for people whose job or daily activities require them to sit for a majority of the day. Although I still recommend getting up every 20 minutes, these can be a good alternative when that's just not possible. Exercise discs are very similar to using an exercise ball chair, except with these you can go from chair to chair and can support up to 350 pounds or about 160 kilograms..
If you are looking to strengthen your core muscles, decrease back pain, and improve your posture, sitting on an exercise disc makes the simple act of sitting a dynamic and active experience.
Social Share