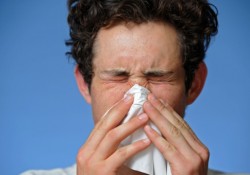 For those living in Tulsa, OK, you know that allergies can be a big problem. And when you start sneezing and sniffling, your first thought is to take an antihistamine – not to call a chiropractor! Unfortunately, antihistamines can sometimes have serious side effects and might not be the best option. You may not be aware, but chiropractic care may be able to help you overcome your allergy problems. Most people associate chiropractors with back and neck pain, and while it is true that chiropractors do help with these conditions, they can also help the body achieve optimum health and function by ensuring that the spine is correctly aligned, moving and functioning like it should.
The University of California did a study [1] that found the signals from our nervous system may influence the function of the immune system. This is something that, as chiropractors, we have known for a long time and that most of the scientific community is now beginning to understand. While our immune system is intended to fight against viruses, disease and infection, and helps to keep the body performing at its peak, it can also act to dispel foreign contaminants that enter the body. When you sneeze because of an allergy, it's because our body detects the presence of a foreign object in the system, such as dust, mites, pollen, etc. and produces chemicals to neutralize and expel the allergens. These chemicals are known as histamines. In the case of allergies, the immune system, if not functioning properly, can overreact and produce too many neutralizing chemicals (especially histamines) to counteract the allergens.
A chiropractor may help by correcting subluxations in the spine which removes the nerve interference, and as a result the immune system is able to function optimally once more.
Since orthodox medicine has no cure for allergies, most traditional treatments for allergies, such as antihistamines, only deal with managing the symptoms and don't eliminate the cause. The safety of anti-allergy medication is also under debate as the long-term use of antihistamines or combination with other medication may cause cancer. A study conducted in lab rats with brand name anti-allergy medication found that cancerous tumors in the rats grew much farther with the intake of antihistamines [2].
As chiropractors, we treat the patient by releasing the stresses on the patient's nervous system, which as a result causes the immune system to work more effectively and as a consequence allergies are thereby reduced. Patients with misaligned spinal vertebra may have compressed, stretched, irritated nerves, which apply pressure and stress the system. Once the subluxation is corrected and stress is taken off of the nerve, the nervous system in general is free from stress and the body can then work more effectively to neutralize the allergy-causing chemicals found in the body.
Spinal health is as beneficial to the body as is good nutrition. Chiropractic care can help the body to achieve optimal health and can help to improve the quality of life. If you would like to see how chiropractic can help you, call your chiropractor in Tulsa, Dr. Jason Schluter at (918) 664-3571 and schedule an appointment today!
Dr. Jason Schluter is a Chiropractor at Schluter Chiropractic in Tulsa, OK.
References:
[1] Goetzl EJ, Voice JK, Shen S, Dorsam G, Kong Y, West KM, Morrison CF, Harmar AJ., Proc Natl Acad Sci U S A. 2001 Nov 20;98(24):13854-9. Epub 2001 Nov 6.
[2] Brandes LJ, Simons KJ, Bracken SP, Warrington RC., J Clin Oncol. 1994 Jun;12(6):1281-90.
Social Share