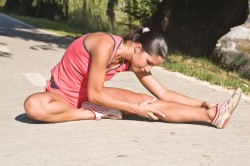 When it comes to working out, stretching is something many of us tend to avoid or skip all together. Whether we say it's because we don't have time, we're impatient or just feel that it is "pointless." However, it is important that our joints are able to move with the freedom and within the normal range they were intended to have. As our bodies age, we become stiffer and lose the flexibility we had when we were young. Chances are, unless you're a dancer or a gymnast, the fluid flexibility you had as a chile or even into you twenties is no longer there. However, it is never too late to regain enough flexibility to remain youthful and limber by training through stretching. Proper stretching allows us to continue doing our daily tasks into old age, such as reaching that high shelf, bending to pick up a dropped object, or accessing that hidden switch behind an awkward kitchen cabinet. Stretching also helps your body maintain good biomechanical motion in the spine and other joints and helps your body maintain the corrective adjustments your chiropractor makes.
One reason it's really important to stretch before working out is that we are likely to use muscles and tendons that are normally inactive. Without flexibility to those muscles, the risk of injury or of tearing those muscles and tendons when used, is higher. If stretching is done correctly before working out, it's a good prevention against injury, and can also be used to treat injuries as well. Finally, when done properly, stretching simply feels good. It can be a great way to gently start the day or to wind down after work.
Stretching before you exercise is easy and doesn't take up much of your time. It will increase the blood flow to your muscles and help relax them allowing you to exercise without having to worry about injury or being overly sore the next day. Simply warm up the various muscle groups with slow stretches of the joints towards the end of their range of motion; this should cause the feeling of a gentle "pull" being felt in the muscles. Hold the position, make sure you don't "bounce", for up to half a minute and then alternate side or muscle groups. Not only does stretching prevent injury, but it also improves the mechanical efficiency of your body. Stretching prior to exercise means the muscles are stretched, relaxed and warmed up, allowing them to undergo the full range of motion with less effort when exercising – this means the body's overall performance is improved.
Other added benefits to stretching include improved circulation to the muscles and joints, alleviating the pains felt post-workout, and stretching can also help to improve your posture. Regular stretching is not only beneficial for exercising but also for your daily life routine. And for our chiropractic patients, it helps re-enforce the corrections we are making to your spine. A great time to stretch is right after you have received your chiropractic adjustment. This helps maintain the good, normal motion we want to see in your spine. If you have any questions about stretching, be sure to ask Dr. Jason or Dr. Eric.
Social Share