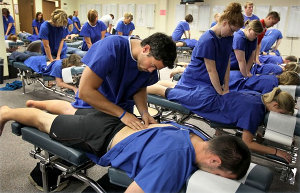 According to many sources Chiropractic is the second largest health care profession. Some articles and authors have referred to chiropractic as alternative . However, this label may not fit in the face of the growing numbers of people seeking chiropractic care. So it is surprising to find that a lot people are unaware of the level of education Doctors of Chiropractic receive. But becoming a chiropractor is no easy feat. The training to become a practicing chiropractor is akin to traditional medical doctors and involves years of academic training and hours of patient contact work. Doctors of Chiropractic undergo a very demanding professional education equivalent to any other primary care provider.
The average chiropractic education consists of the following:
Undergraduate Education
Chiropractic Education
State and Federal Licensure>
Continuing Education and Training
Chiropractors must complete 90 hours or approximately 3 years of undergraduate (pre-med) coursework emphasized in chemistry, physics, anatomy and the biological sciences as well as basic college courses before being accepted into chiropractic school. Many decide to go ahead and spend the extra year to get their bachelor's degree and there are some states that even require licensure candidates to hold a bachelor's degree as well.
After completing their prerequisite undergraduate education, aspiring chiropractors begin their chiropractic education spending over 4000 classroom hours as well as over 1000 hours of supervised clinical training while in chiropractic school. The first two years of study are very similar to that of medical school while the remaining years are focused more on the chiropractic sciences as well as clinical work. Because a chiropractor deals with such a wide variety of physical conditions, a broad education is necessary. They learn all about the structure and function of the human body, how health is achieved and maintained, and the disease processes, with an emphasis on spinal functions and disorders as they relate to an individual's overall health.
Before receiving a license to practice, a graduate of chiropractic school must complete and pass the four parts (and in some cases a physiotherapy part) of the exam provided by the National Board of Chiropractic Examiners. Many states also require licensure candidates to pass a state exam as well, including some on chiropractic law and additional areas of medical knowledge.
As with any other doctor, chiropractors are required to complete continuing education courses as a condition of license renewal each year.
In order to become a Doctor of Chiropractic, chiropractic students must go through a program every bit as strenuous and in-depth as other health care practitioners. To help demonstrate this better is the following graphic.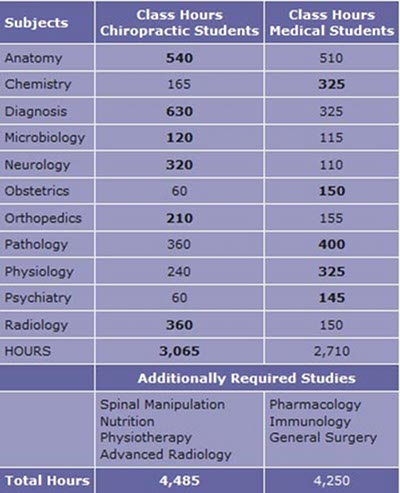 Dr. Jason Schluter is a Chiropractor in Tulsa, OK at Schluter Chiropractic.
Schluter Chiropractic is conveniently located off Memorial Drive in Tulsa, Oklahoma and provides quality chiropractic care to Tulsa and the surrounding areas.
To schedule an appointment, call (918) 664-3571 or visit www.DrSchluter.com.
Social Share