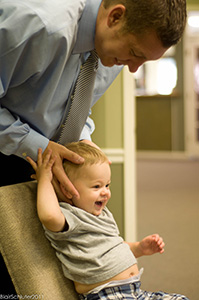 Chiropractic care can be beneficial to people of all ages, including infants. Many parents often bring their infants to their chiropractor for a checkup soon after they are born due to the subtle injuries that can occur in a baby's spine during the birthing process – even with natural childbirth methods. In fact, many chiropractors, including myself, adjust their children the day they are born. Chiropractors are trained in how to assess these subtle problems and imbalances in ways that medical doctors and pediatricians are not.
As children continue to grow, chiropractic care remains beneficial. Spinal problems can occur as the result of falls, poor posture, or from long periods of time spent in cramped or uncomfortable positions, such as riding in car seats. These problems in the spine, or what we call subluxations, can result in many common disorders in children, such as earaches, colic, or headaches. Chiropractors have often been successfully treating these conditions. In 2007, nearly 3% of children in America had been treated by a chiropractor, making it one of the most common forms of complementary or alternative medicine used for children. Due to the benefits of chiropractic care for children, we believe this number will keep rising.
Safety is especially important when dealing with children and chiropractic has been proven for decades to be one of the safest alternative health care methods. Chiropractic adjustments, when performed on infants or young children, involve very light, finger-tip movements. The force necessary to make a correction on an infant or child is much less that that needed for an adult. Although it is easy for children's spines to become subluxated or out of alignment, it is also easy to make the necessary correction with minimal effort. The "popping" sound (gas released from the joint) that you usually hear during an adjustment in adults is not always heard in children. There is rarely any pain or discomfort, and many children enjoy coming to the chiropractor and look forward to their visits.
Infants and small children are extremely resilient by nature. Most of the time they handle the bumps and bruises of childhood with no problem. However, if you start to notice that your child is sitting, standing, or walking differently or seems to avoid certain activities due to pain, then they may need to visit a chiropractor. Some children may also be able to vocalize their pain by complaining that their back or neck hurts. Since children are usually resilient to this type of pain or discomfort, any complaints like this indicate that the problem needs to be addressed.
So there is no reason why, as a parent, you should not consider chiropractic care for your infant or child, and there are many reasons why it may be wise to do so. The focus of chiropractic is, after all, to treat the "whole person" and, by keeping the spine and nervous system healthy, keeping the whole body healthy. This is as important in children as it is in adults.
It is important to note, however, that we are not looking to replace your pediatrician but rather work in conjunction with them. As chiropractors, we provide care focusing on wellness, integrity of the spine and the nervous system, and the development of a healthy immune system. You would not expect your medical doctor or pediatrician to perform a checkup on your children's teeth; instead you'd take them to a dentist, who has had more specialized training. Similarly, chiropractors have had more specialized training that enables them to diagnose subtle imbalances in children's spinal structures and restore them to balance with gentle, effective adjustments.


Dr. Jason Schluter is a Chiropractor in Tulsa, OK at Schluter Chiropractic.
Schluter Chiropractic is conveniently located off Memorial Drive in Tulsa, Oklahoma and provides quality chiropractic care to Tulsa and the surrounding areas.
To schedule an appointment, call (918) 664-3571 or visit www.DrSchluter.com.
Social Share